Alice Bradley and Deanna Zandt discovered that they were both struggling with emotional wellbeing just like millions of other Americans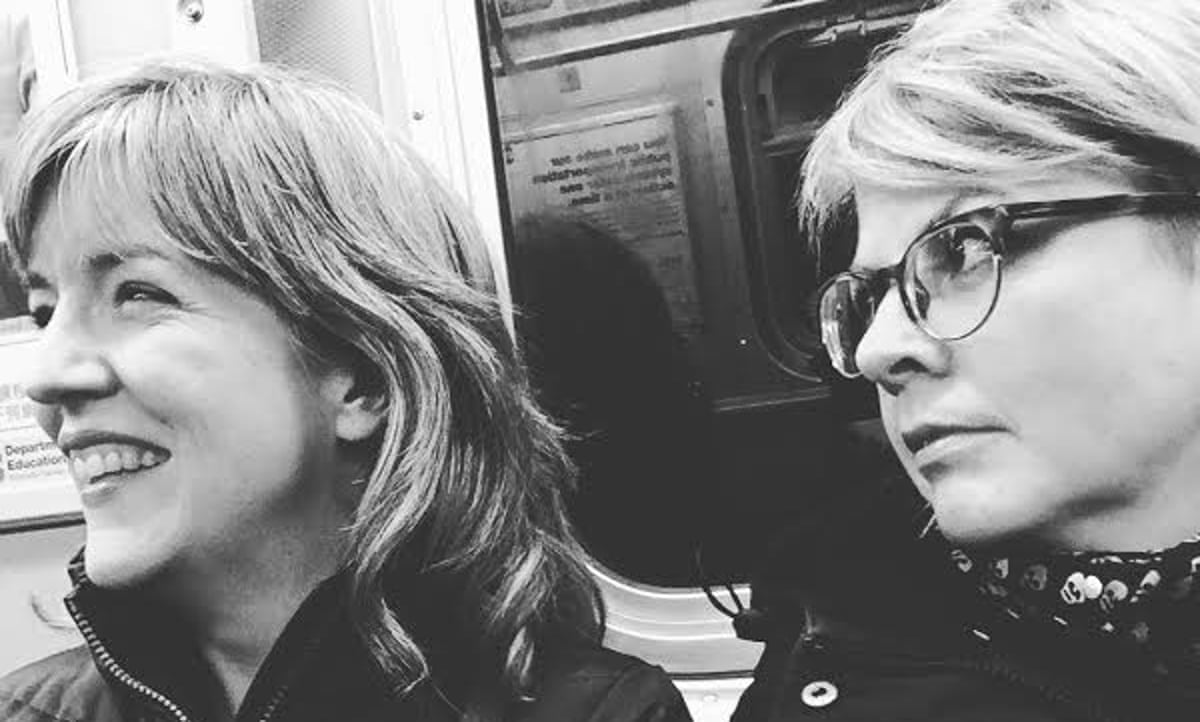 They say that misery loves company, but based on the podcast The League of Awkward Unicorns, misery also loves a good a story, honest conversation and a whole lot of laughter. A few awkward unicorns dont hurt either.
Why you should listen
The origin story of the League of Awkward Unicorns goes something like this: over one long brunch, friends Alice Bradley and Deanna Zandt realized that they were both struggling with their emotional wellbeing. We were having a discussion about being depressed and anxious and we wanted to create something that was about depression, but would be funny, said Bradley. Both of us had wanted to do a podcast forever, so it just came out, and we realized we should do it together.
Zandt is an illustrator and had come up with the drawing of an awkward unicorn on a whim, having nothing to do with the show, but it felt like it was meant to be. Deanna showed it to me, and I said, thats the name of our podcast, said Bradley. It was like it was waiting for us to get on board and invent something to go with it.
As for what an Awkward Unicorn is exactly, Bradley explains: Its a person who is vulnerable and quirky and OK with both of those things. The illustration depicts it perfectly. Its a bucktoothed unicorn, said Bradley, laughing. Its this beautiful, rare thing with a really goofy aspect to it.
Being part of a league means that no one is left to struggle alone, but instead is part of a larger community who help each other through their dark days. Considering that recent surveys have shown that one in five adults in the US lives with a mental illness, and 16 million had at least one major depressive episode in the past year, its a timely and much needed addition to the podcast roster.
This isnt Bradleys first public outing as someone who struggles with emotional wellbeing. She has documented her depression and anxiety in a variety of publications and on her popular blog, Finslippy, which she has written for 12 years. I didnt really talk about it too much in the beginning, but when I did it really resonated with my readers, she said. I talked about it in detail. I was going off certain medications. I went on others. People really responded to that.
Fans of Bradleys writing will appreciate the podcast because it gives her a chance to create a broader context for her thoughts. Peoples response to the podcast has been really strong, said Bradley.
While Bradley was open about her depression and anxiety, Zandt was less public about hers until she wasnt. Even though I was friends with Deanna, I didnt know that she was a sufferer as well until I saw a comic that she did about getting on medication, said Bradley. The comic, titled Meditation vs Medication: Facing Depression, documents Zandts journey as she comes to terms with a diagnosis of major depression and the decision of whether or not to take medication to alleviate her symptoms. The comic is funny, honest and informative, and helped Zandt open up about her struggles to the point that she now celebrates her Prozac-iversary and, of course, hosts a podcast about depression.
In their frank, funny, accessible way, on each episode of the League of Awkward Unicorns, Zandt and Bradley discuss all aspects of mental health, from medication to unhelpful comments to knowing the difference between clinical depression and just feeling bad because everything is legitimately terrible. They also have guests like Fusion editor Anna Holmes, who talked about her own experiences with depression, author Sara Benincasa, comedian Paul Gilmartin, and artist ADriane Nieves who uses art to manage her bipolar disorder. They also throw in weekly reminders that the world is not actually a horrible place, whether thats a funny YouTube video, a particularly good book, or even another podcast.
In keeping with the shows candid theme, Bradley and Zandt are also completely honest about their mistakes, like when Bradley forgot her computer, which delayed the shows second episode. I feel like we learn so much each episode, said Bradley, laughing, including getting used to listening to their own voices. That is the worst thing, said Bradley. As theyve streamlined their process and learned the podcasting ropes, they have their eye on whats next. We have big plans for the future, said Bradley.
Part of their drive comes from the fact that they have a platform and the freedom to share their experiences honestly. Bradley and Zandt both have jobs where its OK to talk publicly about their mental health, a fact that they dont take for granted. We both feel like we have almost an obligation to discuss these things, because there are lots of people who dont have that privilege, said Bradley. We feel obligated to be loud about this, because this affects tons of people and people you may not suspect are being affected by it. I want people to know that none of us are alone, even in our weirdest, strangest thoughts. I hope it reduces shame, but I also hope its entertaining. We want to help.
Where to start: You Know What Your Problem Is?
Subscribe to The League of Awkward Unicorns on iTunes
Read more: http://www.theguardian.com/culture/2016/apr/02/league-of-awkward-unicorns-podcast-mental-health