May 14, 2017
-
(
Newswire
)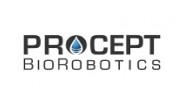 - Procept BioRobotics, a Silicon Valley robotics company developing intelligent surgical solutions to treat prostate disease, has announced the early safety and efficacy endpoints from the global Phase III WATER (Waterjet Ablation Therapy for Endoscopic Resection of prostate tissue) Study showing a superior safety profile for Aquablation with very strong efficacy outcomes comparable to transurethral resection of the prostate (TURP) for the treatment of benign prostatic hyperplasia (BPH). Presented today at the American Urological Association (AUA) Annual Meeting in Boston, the data demonstrated that use of Aquablation resulted in a large improvement in patient symptoms, a substantial increase in urinary flow rates and a decreased risk of sexual side effects compared to TURP.
Aquablation, delivered by Procept BioRobotics' AquaBeam® System, uses a robotically controlled waterjet to remove prostate tissue without the application of heat. The double blind, prospective, randomized WATER Study compared Aquablation to TURP in 181 male patients, age 45 to 80 years with urinary symptoms due to BPH, at 17 sites across four countries. As reported by Co-principal Investigator, Claus Roehrborn, MD, Chair of the Department of Urology at UT Southwestern in Dallas, Texas, the study met its primary endpoints, indicating that surgeons were able to deliver high-quality TURP-like outcomes using Aquablation.
"With the results in the TURP cohort providing a very strong control group, the WATER Study was able to demonstrate that Aquablation achieves comparable overall outcomes for the subjective and objective efficacy measures with even better results in larger glands," said Dr. Roehrborn.
A summary of the reported findings of the WATER Study comparing Aquablation to TURP includes:
Significantly improved BPH symptoms in both treatment groups as measured by the International Prostate Symptom Score (IPSS) at six months with 100% of Aquablation patients improving from baseline
Superiority in IPSS storage symptom sub-scores (p
Original Source: https://www.newswire.com/news/procept-biorobotics-aquablation-shows-superior-results-vs-turp-in-water-blinded