May 18, 2017
-
(
Newswire
)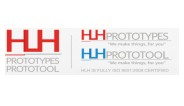 HLH Prototypes is one of China's top bureaus that specializes in product development, prototyping, and manufacturing services. They're able to provide these services as they have modern facilities fitted with state-of-the-art equipment that ensures every project they undertake is a success. Having started as a vision of four people, they have grown to be one of China's top contract manufacturing and prototyping bureaus. HLH Prototypes' primary goal is to provide the highest quality possible to their clients while at the same time offering competitive prices that are rare to find in the market. Having served many customers across the globe, they have earned a reputation to their name as one of the best bespoke manufacturers in the world.
Speaking about prototype manufacturing in China, Yilia Gong, the Assistant GM, said, "Clients in China only choose reliable manufacturers to carry out their tasks. Having this in mind, we always guarantee our customers top-notch work as we employ modern tech to get the job done. As ISO certified manufacturers, we provide 3D printing processes that consist of stereolithography (SLA) and laser sintering (SLS). We pride ourselves on being among the first companies in the industry to use 3D printing in China. Some other manufacturing and product designing services you'll find at HLH Prototypes include CNC machining, reaction injection molding, injection molding, rapid tooling, vacuum casting, etc. To cut the story short, customers can expect honesty and total commitment from our side and are guaranteed success in any project that they undertake with our services by their side."
Clients looking for plastic prototypes can trust HLH Prototypes to deliver on some of the best plastic prototypes as this is one of their specialization areas that they have excelled in for many years. Having UKAS ISO certified facilities in Shenzhen, they only produce the best, and their team of capable engineers works with clients to understand their unique needs so as to create parts and services that will be specific to their projects. They use some of the latest techniques such as ProtoTool, which ensures they take the least time possible when doing plastic injection mold projects while at the same time producing top-notch quality.
Speaking about prices of injection molding prices, Yilia Gong added, "It's a rule in this industry that customers will always want quality and at the same time want the lowest prices possible. That's why customers looking for low cost injection molding can trust us to go easy on their pockets. With our injection molding services, you can get guaranteed some benefits such as the lowest prices possible, reliable and quick services, limitless side actions and hassle-free modifications if there's need for any."
With many clients looking for 3D printing prototyping in the market, HLH Prototypes strives to always stay on top of their game, making sure they only provide the best when it comes to 3D printing. 3D printing (SLA, DMLS, SLM, and SLS) is at the core of what they do. With an extensive experience in this part of their business, they are well-capable of offering the best fabrication services.
About HLH Prototypes
HLH Prototypes is one of China's long-running bureaus that provides bespoke manufacturing solutions to clients in China and across the globe. Using some of the latest techniques and equipment to produce these services, customers are guaranteed of exceptional quality that will seamlessly fit in their projects.
Original Source: https://www.newswire.com/news/hlh-prototypes-is-offering-high-end-prototype-manufacturing-services-19563166