May 20, 2017
-
(
Newswire
)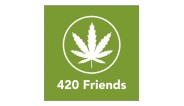 420 Friends is a 100 percent free dating and networking app for people who love marijuana and want to find their stoner someone or bud buddies. The app offers features similar to other dating sites like Tinder and OkCupid along with more social networking features like Facebook's Moments. The app is currently available on Apple iTunes and should be available on Android in the coming months.
420 Friends is co-founded by Jason Du, a Silicon Valley-based tech entrepreneur who has been in the online dating business since 2001, along with Chengying Wu, who also goes by Abbie Wu and is self-employed offline matchmaker. Both have seen people list "420-friendly" in their dating profiles, and Wu has had clients who want to connect with people who enjoy smoking marijuana or at least are okay with the lifestyle. Given the recent expansion in the legalization of marijuana laws, the pair sees a great market for this kind of app.  
"420 Friends is not the only app of its kind but it's the best," says Jason Du. "Compared to its peers, it has more functions and it's totally free so stoners can really have fun, whether they are seeking a stoner someone or just 420 friends."
The 420 Friends app aims to provide a judgement-free community for cannabis enthusiasts and connect its users with the millions of others who enjoy the 420-friendly lifestyle. Users can set up a profile, swipe nearby members anonymously, find mutual likes, send winks to show interests, send messages to start great conversations, and share moments.
The app has already garnered some great reviews. One app user noted, "I like how I can go to just socialize as well as meet potential matches! Sometimes this gets overwhelming and it's nice to have the "moments" section to give other users a chance to know who you are or what you're about."
For more information about the app and to download and start meeting people, visit 420FriendsApp.com.
About 420 Friends App
420 Friends is the best dating and networking app exclusively for people who enjoy the benefits of cannabis on either medical or recreational usage. For more information, visit 420FriendsApp.com.
Original Source: https://www.newswire.com/news/420-friends-tech-start-up-just-launched-a-new-free-dating-app-for-19566040