May 22, 2017
-
(
Newswire
)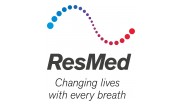 - According to a new ResMed-sponsored (NYSE: RMD) study, people with treatment-emergent central sleep apnea (CSA) have a significantly greater risk of terminating positive airway pressure (PAP) treatment. Researchers found that 3.5 percent of patients had CSA during the first 90 days of PAP therapy. The study, Trajectories of Central Sleep Apnea during Continuous Positive Airway Pressure and Association with Therapy Termination: A Big Data Analysis, was presented today at the 2017 American Thoracic Society International Conference.
This analysis highlights the importance of:
Regularly monitoring patients to support adherence to treatment
Untreated sleep apnea increases the risk of other chronic diseases known for being prevalent with sleep apnea, including drug-resistant hypertension (83 percent), morbid obesity (77 percent), type 2 diabetes (72 percent) and stroke (62 percent)1.
Early diagnosis of CSA to minimize risk of therapy termination
Findings from the largest-ever study of patients with treatment-emergent CSA, presented at the

April 2017

European Respiratory Society and European Society of Sleep Research conference showed that switching treatment from continuous positive airway pressure (CPAP) to adaptive servo-ventilation (ASV) therapy2 significantly improved the patient's adherence to therapy. It also showed that those with treatment-emergent CSA who switched from CPAP to ASV used their therapy longer and had significantly fewer apneas (breathing stoppages or reductions) during sleep.
"This study provides the most robust view available on the prevalence of CSA in patients on PAP therapy," said Dr. Carlos Nunez, ResMed's chief medical officer. "The findings in this new research, combined with the research presented in April 2017, underscore the importance of keeping patients on therapy through regular monitoring, and rethinking the conventional wisdom on therapeutic options based on each patient's disease severity."
The new analysis defined three groups among patients with CSA - emergent, persistent and transient - based on whether the condition was present at the start of therapy or emerged during the first 12 weeks. All three groups showed a significantly higher risk of terminating their therapy than those without CSA. The risk was highest among the emergent group, whose CSA only became apparent during treatment, and were 1.7 times more likely to terminate their therapy than those without the condition.
About the Study
The study authors included: Atul Malhotra, University of California San Diego, United States; Peter Cistulli, University of Sydney, Australia; and Jean-Louis Pépin, Grenoble Alpes University, France.
A retrospective analysis used anonymous, aggregated telemonitoring data from a U.S. positive airway pressure therapy database, (ResMed AirView™) and analyzed it for the presence or absence of CSA during CPAP therapy at baseline (week 1) and after 12 weeks.
Session data included weekly values by averaging within each week for each patient. Defined patient groups were: OSA, emergent CSA, persistent CSA and transient CSA. Groups were compared to identify risk factors for different forms of CSA, and adherence and therapy termination rates were determined.
Patients with any form of CSA during CPAP were at higher risk of terminating therapy in the first 90 days versus those who did not develop CSA (hazard ratio 1.7 for emergent CSA, 1.4 for persistent CSA and 1.3 for transient CSA; all p
Original Source: https://www.newswire.com/news/big-data-yields-big-insights-for-treatment-of-central-sleep-apnea