May 25, 2017
-
(
Newswire
)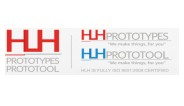 Located in Shenzhen, China, HLH Prototypes is an accredited and one of the greatest and longest-running contract manufacturing and prototyping bureaus. Due to their longtime commitment to providing quality and cutting-edge services, they have continuously boomed in terms of growth. The company specializes in a broad range of services such as vacuum casting, CNC machining, 3D printing, injection molding, and the list goes on. Their prime clients range from small manufacturers and large brands that are globally recognized who display their loyalty by coming back frequently, as they are given an equal measure of services and commitment.
Speaking about their CNC milling and turning machine services, Nissan He, the Sales Manager, said, "Clients whose projects involve CNC milling and turning machine services will always be at ease when they contract HLH Prototypes. This is because they will experience high profitability based on the fact that the company delivers parts that are highly accurate punctually, each time at competitive costs. Our team of engineers evaluate projects individually and determine the most promising engineering strategy for manufacture. Also, our department of QC is fully furnished with Oxford tools such as PMI master pro, which determines the grade of metal accurately and guarantees clients of getting the materials they need."
Since CNC is an accurate, robust, fast and profitable technique, the company focuses a lot on precision CNC milling machine because it's capable of dealing with components that are complex. Besides, CNC milling machines ensure the company has a great capacity of running multiple jobs simultaneously, as well as manufacturing turn around tooling for proto tool services. HLH Prototypes have gone an extra mile of investing in the newest 3, 4 and 5 axis technology that enables them to deliver exact parts that are precise to a customer's specifications.
Speaking about why HLH Prototypes is the best, Jason Ke, the Assistant GM, said, "Our team of expert engineers, stellar quality, years of experience, highly competitive pricing and technology diversity makes us thrive in the industry. Also, it's our desire to put the interest of our clients first because we value their partnership. For this reason, we show our gratitude by providing state-of-the-art project solutions that are custom made to meet their expectations for all their projects. Also, the fact that we deliver on time is a bonus on our part."
Many clients can be undecided when looking for prototype CNC machining services. The best part, however, is that they can always trust HLH Prototypes to help them out in this area. This is because they highly indulge in CNC machining and turn rapid prototype parts as well as small to mid-volume CNC rapid production parts. Machined parts can either be plastic or metallic, and when a client requests special materials, they are sure their desire will be met.
About HLH Prototypes
HLH Prototypes is one of the biggest companies that specializes in providing rapid prototyping, tooling, and production in China. It has earned its trust and loyalty from clients by satisfying and exceeding their expectations. Through their passion, persistence, and commitment, they fly above with high honors.
Original Source: https://www.newswire.com/news/hlh-prototypes-is-offering-rapidtooling-prototyping-and-production-19581258