Sep 21, 2017
-
(
Newswire
)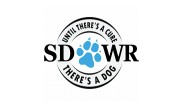 James, a five-year-old in Springfield, Oregon, received a very special delivery today! A Seizure Response Service Dog was delivered to James from Service Dogs by Warren Retrievers to help him better communicate his needs and respond to oncoming seizures. Based in Madison, Virginia, Service Dogs by Warren Retrievers, or "SDWR," has a mission to provide specially-bred and trained dogs for people with invisible disabilities like Diabetes, PTSD, Seizure Disorders, or in the case of James—Autism Spectrum Disorder and Epilepsy. SDWR has nearly 600 service dogs working across the U.S. and around the globe. SDWR is currently serving nearly 1,000 families.
Leotta, a golden retriever Seizure Response Service Dog, recently graduated from SDWR's Service Dog Raiser Program where volunteers diligently raise puppies in training for over the course of approximately one year. Both the dogs and raisers must complete the foundation and skillset training provided through SDWR trainers at their facility in Virginia.
Leotta is also an honored graduate of the SDWR Fallen Officer Puppy Program. The Fallen Officer Puppy Program, or "FOPP," is an initiative by SDWR to pay respect to the legacy of service by fallen American police who sacrificed their lives in the line of duty. Leotta is named in honor of fallen Police Officer III Noah Aaron Leotta of Montgomery County, Maryland who was struck by a drunk driver in 2015. Leotta's Seizure Response Service Dog work with James will carry on in memoriam of Officer Aaron Leotta's life of service before self.
James was diagnosed on the Autism Spectrum and with Epilepsy at two years old. Because of this diagnosis, James is nonverbal and does not recognize dangerous situations or items which may be harmful to him. "He will run, touch hot surfaces, pull a bookshelf down, run in front of cars. He can't communicate his needs, he is nonverbal. We don't always know if he is going to have a seizure or feeling unwell or overwhelmed by his surroundings," says Paige, mother of service dog recipient. Leotta will assist in reducing the effects each diagnosis has on the family's independence and daily life by continuously working with James.
The public health medical journal, BMJ Open, recently published research on the positive evidence of the difference a service dog can make in correlation with Autism Therapy. The study indicated that recipients of a service dog showed improved safety from self-harm and wandering, greater communication ability, and a calmer demeanor. SDWR trainers work directly with each individual to provide service dogs that fit their unique diagnosis.
Leotta's arrival will assist James when he is feeling overwhelmed and/or alert others when he is having a seizure that is unrecognizable to the untrained eye. Since Leotta is a service dog and covered under laws in accordance with the Americans with Disabilities Act, he will be able to accompany James and his family everywhere—especially where Leotta is most needed like while riding the school bus.
This training program is what sets SDWR apart from other nonprofit service dog organizations. SDWR trainers will continue to return for training sessions with James, his parents, and Leotta every 3-4 months over the course of the next 18 months to continue working on Leotta's customized training, follow-up training and training the human to make a successful team and public access certification.
Service Dogs by Warren Retrievers is a nonprofit organization based in Madison, Virginia, and relies on donations to help the Organization in its mission, "Until there's a cure…there's a dog." To make or donation or learn more about SDWR, please visit the website, http://www.sdwr.org. To learn more about Seizure Response Service Dogs visit http://www.sdwr.org/service-dogs/seizure and to for more on Autism Service Dogs go to http://www.sdwr.org/service-dogs/autism. To find out how you can volunteer as a puppy raiser visit http://www.sdwr.org/volunteer-opportunities.
Original Source: https://www.newswire.com/news/trained-seizure-response-service-dog-to-help-5-year-old-child-in-19961393