Nov 8, 2017
-
(
Newswire
)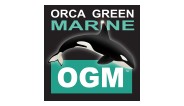 Orca Green Marine (OGM), manufacturer of American-designed and -made LED (light-emitting diode) lights for boats and marinas, will expand its lighting of the cruise-ship industry thanks to a new distribution agreement with Dolphin Agencies, Inc. The agreement, announced in October 2017, makes Dolphin Agencies a preferred distributor of OGM products worldwide.
OGM's LED lights were originally designed for use on U.S. Navy SEAL rigid-inflatable boats and are still in use in the harshest marine environments around the world. Global engineering firm, C2HM Hill chose OGM'​s LX2-ST lights for its cruise-ship pier design for Carnival Cruise Lines, and OGM lights continue to be used on piers in cruise-ship destinations including Cozumel, Manzanilla and Puerto Maya, Mexico; Belize; Honduras; and the Cayman Islands.
Florida-based Dolphin Agencies, Inc., is a technical supplier of marine products and services to the cruise ship industry. Since 2001, Dolphin Agencies, Inc., has offered a wide variety of reputable and highly respected marine products to the cruise industry throughout North and South America, Europe, and the Caribbean. "Dolphin Agencies specializes in supplying the cruise-ship industry with the best products," said George Perdik, President of Dolphin Agencies. "Dolphin Agencies is excited to include Orca Green Marine's LED Lights among our list of preferred products for cruise ships and piers throughout the Americas, Europe and the Caribbean."
"We are delighted to count Dolphin Agencies as one of our valued distributors and our preferred distributor for the Cruise Industry," said Meghan Matthews, OGM's founder and CEO. "The folks at Dolphin Agencies have a wealth of knowledge in this dynamic industry and provide their clients with excellent and timely service."
Having a preferred distributor dedicated to the Cruising market will give OGM the customer feedback that will drive future product development and continue to expand its footprint in the commercial-ship industry worldwide. Dolphin Agencies is headquartered in Ft. Lauderdale, Florida and has grown to cover all of North America, Europe, the Caribbean, and Central/South America.
With distribution solidified, OGM will continue to create innovative and useful products for boaters, marina operators, bridge and ferry terminals, and other marine-industry professionals and enthusiasts.
About Orca Green Marine
Headquartered in Annapolis, Maryland, Orca Green Marine (OGM) designs, makes and sells LED Lighting and Energy-Harvesting products for the marine and other remote and harsh environments. As a pioneer in LED Navigation lights, OGM designed and manufactured the first USCG-approved LED Navigation light in 2004. OGM's early customers include circumnavigators, liveaboards, offshore racers and the U.S. Navy SEALS. More recently, OGM's broad customers include the U.S. Navy and other military vessels, cruise ship piers, tow boats, fire boats, pilot boats, bridges, piers, docks, firehouses, and other places that demand lighting and power systems that can withstand the harshest environment. Beginning in 2017, OGM announces a series of innovative newly patented energy-harvesting (solar, wind, kinetic, wave/current) technologies that will interconnect with its LED lighting system and are created to take sustainable coastal life to the next level.
Original Source: https://www.newswire.com/news/orca-green-marine-announces-new-distributor-for-cruise-ship-customers-20023857