Nov 13, 2017
-
(
Newswire
)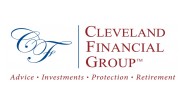 Cleveland Financial Group (CFG) announced today that Matthew K. Whitson ChFC® and Bill W. Crozier, Jr., CLTC® have joined Cleveland Financial Group™ as Partners and Financial Planners. "Crozier and Whitson are two key additions, and we are thrilled to have them affiliated with our team," said Jeremy DiTullio, the group's Founding Partner. The two planners have established CFG's Medina office located at 807 East Washington Street, Suite 100, Medina, OH 44256.
Cleveland Financial Group™ is composed of financial planners who have prodigious experience in wealth management, executive-focused planning, and sophisticated wealth transfer strategies.
Crozier cited the firm's client-centered, independent-minded financial planning culture was influential in his decision to affiliate. Whitson added that "the financial planning support is impressive and the intellectual capital available to support advanced case design is some of the best in the industry."
"Matt and Bill are knowledgeable and diligent planners that bring 48 years of combined industry experience to our firm," said DiTullio. "Their vision to grow and serve their clientele is well-aligned with our values and the resources that are available to them here."
Cleveland Financial Group's main office is located at 2001 Crocker Road, Suite 400 in Westlake, Ohio. They can be reached at 440-617-6677 or online at clevelandfg.com.
Registered associates of Cleveland Financial Group™ are registered representatives of Lincoln Financial Advisors Corp. Securities and investment advisory services offered through Lincoln Financial Advisors Corp., a broker/dealer (member SIPC) and registered investment advisor. Insurance offered through Lincoln affiliates and other fine companies. Cleveland Financial Group™ is a marketing name for business conducted through Lincoln Financial Advisors Corp.
CRN-1946965-111017
Original Source: https://www.newswire.com/news/cleveland-financial-group-enhances-its-team-with-the-addition-of-two-20051038