Oct 5, 2017
-
(
Newswire
)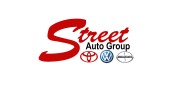 Street Volkswagen of Amarillo will host their second annual Women's Only Wednesday (WOW) Fundraiser on Wednesday, Oct. 11, 2017 in honor of breast cancer awareness month. WOW begins at Street Volkswagen located at 5000 South Soncy at 5 p.m. and will conclude at 9 p.m. Tickets for the event are $5.00 and will include light appetizers, beverages, a skit presentation and special speakers. 
"We are excited about this fundraiser," Sindy Monasmith, Customer Relations Manager, said. "This is the second year for us to host Women's Only Wednesday and we feel that this event not only provides beneficial information on the importance of research by our local organizations, but gives us an opportunity to be inspired and to inspire others in our community as well."
The WOW event will benefit the Amarillo Breast Center of Excellence- Texas Tech University Health Sciences Center located in Amarillo, Texas.
"Our inaugural event was a tremendous success, and we are excited to invite our community back out to our second annual Women's Only Wednesday," John Luciano, General Manager, said. "We hope our event continues to grow and that with each year, our community is able to learn more and continue to have an incredible time, all while celebrating life and the strong women in our area."
Special speakers will be present during the event and invited vendors will have the opportunity to showcase items that correlate to the evening's theme.
For more information about the WOW event or to purchase tickets, please contact Sindy Monasmith at 806-350-8999 or email her at sindy.monasmith@streetvw.com
For more information about Street Volkswagen of Amarillo, visit the dealership at 5000 South Soncy in Amarillo, Texas. To chat with a live representative, visit www.streetvw.com or call the dealership at 806-350-8999 to speak with someone directly.
Street Volkswagen of Amarillo has been a valuable corporate citizen in the Panhandle. The company provides support to area nonprofit organizations such as Boy Scouts of America, United Way of Amarillo & Canyon, The Boys & Girls Clubs of Amarillo & Canyon, Young Life of Amarillo, High Plains Food Bank, Snack Pak 4 Kids, Family Support Services, Amarillo Symphony, West Texas A&M University and many other organizations.
Original Source: https://www.newswire.com/news/street-volkswagen-of-amarillo-hosts-womens-only-wednesday-wow-19987661