Oct 11, 2017
-
(
Newswire
)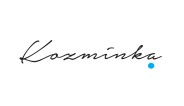 Fine Senses captivates us with a design that is sure to make people look twice. Demonstrating how fascinating abstract shapes are, and experimenting with negative space can open our eyes to an entirely new aesthetic or way of thinking. The shapes Kozminka designed were created to start a guessing game and ignite the imagination of the viewer.
Fine Senses features earrings, brooches and a ring dedicated to the five basic human senses. Kozminka named these pieces Vision, Taste, Sound, Contact, and Scent. The classic combination of gold and pearls is timeless, but there's something effortlessly contemporary about this collection. Kozminka is influenced by the human experience and strives to create pieces that can be worn during daily errands and later that night at your best friend's wedding.
Kozminka founder Katya Kozmina is thrilled with the new collection. "I'm excited to finally offer the fine jewelry line that I have dreamed to create since our brand's first day," she says. "I'm sure that any girl with a fine sense of style will love something in this line. If you like delicate statement jewelry this collection is for you."
Fine Senses line by Kozminka shows us the artists continuous innovative exploration of the human form that the company began with their 'Senses' collection, which is now available in sterling silver.
About the Company: 
The focus of the Kozminka Jewelry collection is a delicately modern style created with quality and precision; in addition, all the pieces in the Kozminka Jewelry line are created using fair-mined Gold and Silver. For more information, ideas, designs, and inspirations follow @kozminkajewelry on Instagram or check the working portal on www.kozminka.com.
Original Source: https://www.newswire.com/news/curiosity-negative-space-are-the-defining-elements-in-the-fine-senses-19991809