Oct 12, 2017
-
(
Newswire
)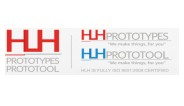 HLH Prototypes is a company whose specialty is offering rapid manufacturing, product development, and prototyping services. They have expert engineers and personnel, years of experience, up-to-date equipment, and infrastructure for their effective day to day operations. Assurances they offer are that they have set themselves apart and have a clear vision of making sure their customers get stellar quality products at the best prices and elite customer service.
Speaking of liquid silicone rubber, Susie Su, the Sales Executive said, "LSR or liquid silicone rubber molding heat cures a dual-component compound jointly with a catalyst to manufacture parts. The procedure is identical to injection-molding however the material delivery is chilled, and the mold is heated. Silicone parts are sturdy and unaffected by electricity, temperature, and chemicals. Silicone parts are additionally biocompatible so, they can be utilized for cosmetic and medical applications. At HLH Prototypes, we have experience with silicone and can attain low volume prototype using a POM device to low-to-mass manufacturing quantities using steel or aluminum devices. If you wish to know more, simply contact us."
HLH Prototypes offers plastic injection molding services, and they conduct it in four stages that is, clamping, injection, cooling, and ejection. Clamping is the opening process, and it involves securely shutting down the hydraulic power-driven clamping unit that pushes the two mold halves conjointly. Raw plastic is then injected into the machine, and it melts because of heat and pressure as it enters the mold cavity. Cooling is then prompted with cooling solutions added to speed up the process before the final ejection of a solid mold. Guarantees that HLH Prototypes offer with their plastic injection mold in China are that it has limitless side actions, offers stress-free modifications, is quick and reliable, and reasonably priced.
Speaking of their prototype injection molding services, Jackson Ke, the Vice GM said, "We have heavily invested in our prototype injection molding infrastructure, offer a variety of rapid prototyping systems, and we are dedicated to transforming our clients' ideas and concepts into reality. We also have extensive prototyping experience and broad manufacturing capabilities. You make the prototypes, and we collaborate and recommend to you the best rapid prototyping actions that will fit your project needs, demands or preferences. We utilize techniques such as 2D, 3D scanning, and 3D CAD modeling to attain your product engineering designs before proceeding to the plastic prototype fabrication."
The company offers prototype and production extruded plastics and metals for an extensive array of industries. They major in the production of custom-made profiles from one-off prototyping work all the way through to mass production. The firm's team of committed extrusion professionals provides rapid turnaround times together with excellent quality personalized extrusions. They also work with a broad collection of materials and can deliver all standard finishes including powder coating and polishing.
About HLH Prototypes
HLH Prototypes is an enterprise whose specialty is offering manufacturing, product development, and prototyping services. They also offer rapid precision machining services for those looking to find China precision machining services.
Original Source: https://www.newswire.com/news/find-prototype-injection-molding-services-at-hlh-prototypes-19998704