Nov 2, 2017
-
(
Newswire
)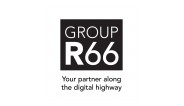 In the spirit of old Route 66, a major path for those heading west in the first half of 20th Century USA, today businesses across the globe travel a new interstate, the digital highway. Fraught with accelerations, disruptions and innovations, Group R66 differentiates itself by guiding clients fluidly through the transformational digital highway to minimize disruption.
Group R66 addresses the real threats of doing business in the digital age, providing practical and proven services for digital marketing and e-commerce efforts. Their goal is to efficiently move clients from a problem state to a desirable end state, with measurable results.
"Group R66 was structured to provide exemplary digital marketing services that are delivered by vested employees." Kristen Curths, Co-Founder said. "Clients find the constantly evolving digital highway to be exhausting, but it does not have to be with the right partner."
About Group R66: Group R66, founded by forward-thinking experts, is comprised of seasoned digital marketing and e-commerce professionals who have been around the block since the world first began adopting digital business. They have witnessed technology converge and business operations adjust. Primed with an innovative business model that attracts talented veterans, GR66 rewards those who help make digital marketing and e-commerce solutions possible.
Original Source: https://www.newswire.com/news/digital-marketing-professional-service-company-launches-innovative-20030437