Nov 14, 2017
-
(
Newswire
)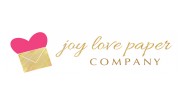 In a world in which a quick "Merry Christmas" text is commonplace, Christine McMenamin of Joy Love Paper Company has a better option.  Her handmade foiled cards make it easy to impress those on your once-forgotten Christmas card list.
Christine recently released the Joy Love Holiday Collection in her Etsy shop to the delight of her fans.  "I wanted to create a collection of cards that catch your eye and brings a smile to your face," Christine says.  "The shiny foil, beautiful bows and foil lined envelopes combine for a magical Christmas package you can send for the cost of a postage stamp."
All of the cards are blank inside.  Christine explains why: "In this day and age, how rare is it to receive a handwritten note?  The thoughtfulness in a simple handwritten message is worth more in my opinion than any standard phrase I could print inside."  In addition, "I treasure cards handwritten from my family members who are no longer with us.  Holding a card with a message they wrote brings back great memories.  Reading a text just cannot compare." 
The collection features a selection of cards with carefully tied ribbon bows along with a foiled greeting, as well as fun graphic cards such as a Merry Catmas card for that cat lover in your life.  Each card is designed and made by Christine.
Check out the Joy Love Holiday Collection at www.joylovepaperco.etsy.com and connect on social media @joylovepaper.  Christine offers her VIP Club sneak peeks and a 30% off discount. Sign up at www.joylovepaper.com.
Original Source: https://www.newswire.com/news/forget-the-christmas-text-joy-love-papers-handmade-cards-will-wow-20057708